Education
Greyhounds in the Classroom
How The Program Works
"Greyhounds in the Classroom" is a dynamic, free presentation for grades 5-12 to help introduce young people to greyhounds. Each 30-60 minute program is designed to teach children about the gentle and loving nature of these beautiful creatures and encourage the compassion for greyhounds.
Presentations are given by certified humane educators accompanied by real greyhounds. Here's a sample lesson plan, supporting materials and PowerPoint presentation for sixth graders used by a past volunteer teacher.
The presentation covers:
The history of the greyhound
The realities of racing life
The joys of adopting a greyhound!
We provide free educational materials, including posters, magnets and coloring books to all students, and answer any questions they may have. Each program is presented professionally and sensitively.
Interested?

Contact us if you:
Want to join our teachers' network
Want to bring the program to your state or school
Want to learn more about greyhounds or greyhound adoption
Call us at 781-488-3526. Or e-mail us at info@grey2kusaedu.org
Read Maru's lesson plan, supporting materials and presentation; feel free to contact her if you would like help creating a program for kids in your area. Maru, who also works with other animal protection organizations, may be reached at maru@grey2kusaedu.org.
Doolen School students react to Maru's presentation.
"Well, I can assure you that at least 20 young Tucsonans will not be attending greyhound racing EVER....Jett the greyhound was in paradise when the kids gave him hugs, kisses and belly rubs. His face clearly indicated that he was in heaven.

My students were extremely happy with the presentation, signed their pledges and wore their buttons immediately. Now they know exactly what to do to help the greys."
See the article by Seacoast Online: Students learn about plight of racing greyhounds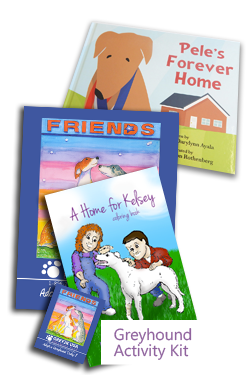 Get your own greyhound activity kit including:
"A Home for Kelsey" coloring book
11" x 14" Greyhound Friends poster
3" x 4" Greyhound Friends magnet
Read a letter
written by sixth graders from the Heath School.
See videos created by Cambridge students, advocating for the greyhounds.